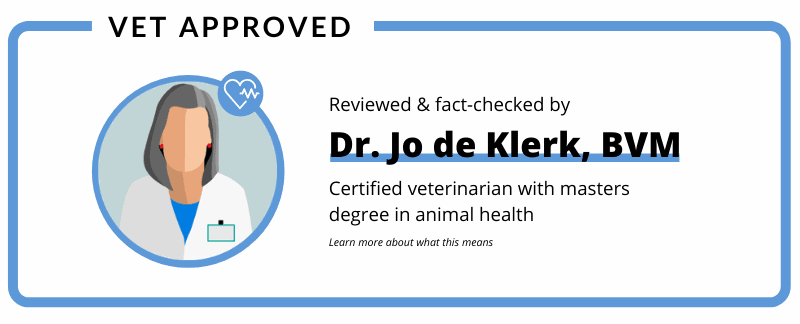 Editor's note: Dr. Jo de Klerk is neither affiliated with nor endorses any specific health insurance company.
Pet insurance is certainly one of the grey areas of canine care. Is pet insurance essential, like health insurance is for humans? Is it an optional safeguard? Or heck, is it a total scam?
In this guide, we'll review the very best pet insurance companies as well as dig into the ins and outs of pet insurance and help you assess whether or not pet insurance makes sense for you.
Key Takeaways: Is Pet Insurance Worth It?
Looking for the most popular, best-rated pet insurance plan? In our research, Healthypaws had the most happy customers. While monthly premiums can be a bit high, fans agree the coverage is fantastic, and folks love the 90% reimbursement option.
Pet insurance commonly presents a few key challenges to owners. For example, you'll usually need to pay upfront for health care services and then wait for a reimbursement check. Also, pre-existing conditions are rarely covered by insurance plans.
You'll usually be able to pick between several different options when choosing a pet insurance plan. This includes things like deductibles, monthly premium levels, and different types of reimbursement options.
The Most Popular Pet Insurance Companies (and What Real Customers Have to Say)
Let's say you've decided pet insurance is a good choice for your needs. What pet insurance companies should you consider? What are some of the best pet insurance companies?

There are a lot of pet insurance programs out there, and they don't tend to be very transparent about when they will or won't come through for you.
We took to Reddit and dug through several pet insurance-related threads to see which pet insurance companies users loved and which were not so impressive.
1. Healthypaws
Healthypaws
Most popular plan
While monthly premiums are high, fans love that with a $100 annual deductible, customers can get up to 90% reimbursement.
PremiumVaries
Deductibles$100 – $500
Reimbursements70% – 90%
About: Healthypaws was far and away the most popular pet insurance plan among Reddit users in our research. All customers seem to be big fans and had nothing but good things to say about Healthypaws.
Generally, Healthypaws was reported to cover the most in terms of pet injury and illness. With options for 80% or 70% reimbursement (or 90% in some cases), many owners rest easy knowing that Healthypaws will always pick up the vast majority of the vet bill.
Features:
Pays flat percentage of costs after the deductible is met
Dental cleaning is not covered
15 day wait period for accidents and illnesses. Hip dysplasia coverage is subject to 12 month wait period
No annual coverage limits or maximum payouts
In two demo cases that Consumer Reports ran, only Healthy Paws ended up paying out more than it cost during the pets' coverage period.
Healthypaws Coverage:
Healthypaws covers all the essentials you'd need for your pet, as well as some extras like alternative treatments, prescriptions, etc.
They don't cover routine care or spay / neuter procedures, but these costs are generally pretty minimal, and not covering them allows for a significantly lower monthly cost.
Info required for quote:
Pet's name
Pet's sex
Pet type (dog or cat)
Pet's weight
Pet's breed
Pet's birthdate
Zip code
Email address
Selecting a Plan: HealthyPaws makes selecting a plan really easy – there is no tiered options with varying coverage. Instead, you can choose between two reimbursement options and deductible options, and that's it.
Rate Increases
It should be noted that – while Healthy Paws does not raise rates based on pet age – they do conduct periodic "cost of living" adjustments (which might as well be age-based increases).
However, as one user notes:
"For my 2 cats over the past 7 years I've gone up about 10$ to $60 a month. It's a little annoying, since when I signed up I was told they don't raise rates based on age… Still, considering one of my cats has a lot of medical issues and her daily meds cover the premiums. They've paid out in excess of 20 grand for her without issue." – from Reddit user u/flying_unicorn
Healthy Paws Customer Reviews:
"It Paid For Itself"
We pay $28/month for Healthy Paws and it paid for itself in the first 6 months. I suggest Healthy Paws or Trupanion… IIRC, the difference between Healthy Paws and Trupanion is how the deductibles are paid out. Healthy paws is per year, Trupanion is per illness. [source]
I have Healthy Paws Pet Insurance for my dog. He's very high energy and likes to eat things he shouldn't. I pay about $45/month for the lowest deductible ($100/year) and highest coverage after deductible (90%) – I figured that if I was going to spend anything on pet insurance, I might as well put a few extra dollars toward it each month to have the best plan possible.

When I was shopping for insurance, I liked Healthy Paws because they seemed to have broad coverage including illness, injury, and congenital diseases with no lifetime maximum. The price has gone up a few dollars/month each year but that's to be expected with increasing costs of vet care.

I've submitted a few claims and have had great service. They coded a med as pre-existing for one claim that shouldn't have been and they quickly adjusted the claim after I provided the vet visit notes showing it was for a new condition.

I'm typically very frugal and it was hard to decide to spend as much as I do on pet insurance, but as others have said, it's worth it for the peace of mind to know that I never have to base decisions about my dog's care on whether I can afford the bill.

I'll admit that over the 3 years I've had the plan, I've paid more in premiums than I've gotten back in claims, but that just means my dog has been healthy, so I'm not going to complain about that. It's still worth it to know if anything does happen, we'll be covered!

Reddit u/penniesfrmheavenblog [source]
---
2. Trupanion
Trupanion is another pet insurance company with high marks from Reddit users.
Trupanion
Pricey, but covers the most (even dental)
Best for purebreds and dogs who are likely to have genetic issues
Premium$50 – $150
Deductibles$0 – $1000
Reimbursements90%
About: Trupanion customers note that while Trupanion is quite expensive, it is one of the pet insurance companies that covers the most (even dental)!
What makes Trupanion especially unique is that deductibles are based on per illness, condition, or accident. Once your deductible is paid, your policy begins paying out at 90% for anything related to that condition for the rest of your pet's life.
This is pretty unique – most pet insurance companies work off of an annual deductible.
Trupanion's unusual structure offers some pros and cons.
The benefits of an annual deductible is that all treatments your pet needs – regardless of type or situation – can cumulatively go towards reaching your annual deductible. With Trupanion, you may need to pay several deductibles in a year if your dog experiences several types of unconnected health issues.
However, the benefit is that once you pay out the illness-specific deductible, you're good for life. You won't need to hit the deductible ceiling each year, which can be pretty awesome if your pet has an expensive, chronic issue. [source]
You only pay a new deductible when your dog develops a new condition.

This makes Trupanion especially desirable for purebred dogs, who are more likely to develop ongoing chronic issues.
Features:
Deductibles are based on per illness, condition, or accident.
Dental can be covered (so long as your pet's mouth is examined annually and is healthy at the start of coverage).
Once deductible is met, Trupanion covers 90% for anything related to that condition, for the rest of your pet's lifetime.
90% payout after the deductible is valid for all plans, regardless of how you adjust your slider between deductable and monthly premiums.
Pre-existing conditions aren't covered
Impressive speed of claim payouts – some users they have claims processed within 24 hours and a reimbursement check in the mail by the end of the week.
Trupanion wait periods are 5 days for injuries and 30 days for illnesses.
Trupanion Coverage:
Trupnation also options additional coverage through riders. These rider policies (aka add-ons) come at an additional cost and include:
Recovery & Complementary Care: Covers things like acupuncture, behavioral modification, chiropractic, homeopathy, hydrotherapy, rehabilitative therapy, etc.
Pet Owner Assistance Package: Covers advertising and reward for lost pet flyers, boarding fees in the event you are hospitalized, holiday vacation cancellations due to pet injury, etc.
Bonus Features
Trupanion has the ability to – in some cases – disburse payments directly to veterinarians on the day of service, cutting you out of the equation and keeping your cash in your pocket!
Info required to get a quote:
Pet's name
Pet type (dog or cat)
Pet breed
Pet age
Whether or not your pet is spayed/neutered
Whether or not your pet is an assistance animal
Your zip code
With Trupanion, you can select your deductible, ranging from $0 – $1,000. The deductible you choose will affect your monthly premium.
Lower deductibles mean:
Higher monthly premiums
You reach 90% coverage of eligible conditions sooner
Higher deductibles mean:
Lower monthly premiums
It may take longer to reach 90% coverage of eligible conditions
Selecting a Plan: After filling out the info, you'll get a rough quote from Trupanion. For my three year old mixed-breed dog Remy, I was given the option for:
$0 deductible with a $154 per month premium
$200 deductible with a $90 per month premium
$700 deductible with a $50 per month premium
You also always have the option to customize your deductible and have the quote wizard auto-adjust your monthly premium.
When I adjusted the slider all the way to the right, I was able to get a under $40 monthly premium with a $1,000 deductible.
Even at the highest deductible of $1,000, a nearly $40 per month premium isn't cheap. But, it's reassuring to know that once that deductible is hit for a specific condition, you'll never have to deal with it again and will only have to handle the monthly premiums.
Trupanion Customer Reviews:
"There Are Zero Limits"
"There are zero limits. If your pet has a major illness, they charge you the deductible ONCE then pay for 90% of treatment, as well as prescription food. I had an epileptic Cane Corso who racked up about $40K in vet bills, Trupanion just kept sending us letters of well wishes."
"Recommend for High Risk Breeds"
"I work at a vet clinic and have always liked Trupanion the best. We had insurance on our lab mix from puppy hood in case of an accident. I did cancel recently as it was over 40$ month and she's got no signs of joint issues. We never really used the insurance and I'm just going to put money as side for her later life issues. They are always lovely to talk to and it was easy to cancel! I do recommend insurance for high risk breeds." – Reddit user SparklingSprinkles [source]
The only pet insurance that made any sense to me is Trupanion (or Healthy Paws – similar type of plan) – which is basically high deductible pet insurance for accidents or serious health conditions. It has a "per issue" deductible – so you have to hit the deductible for each condition or accident you want to use it for and then it covers 90% of costs for the condition after that.

Every other pet insurance plan I found had low coverage limits (and were ridiculously expensive) and certain conditions are excluded. With any of them I'd be out of luck very quickly if my cat developed an expensive but treatable condition like kidney disease or diabetes.

I pay $18 a month and the insurance is not going to be useful to me unless my cat gets quite sick or injured (we have a deductible of $600)–I hope we never have to use it. I do know a family whose dog got $23,000 of cancer treatment – covered by Trupanion – and has had 2 more years of a pretty great quality of life.

Reddit u/ cabritadorada [source]
---
3. MetLife Pet Insurance
MetLife Pet Insurance
Excellent selection of coverage options
Many praise MetLife's speed in issuing claim reimbursements, but some encountered hiccups during claim processing.
Premium$29 – $90
Deductibles$50-$2500
Reimbursements70% – 100%
About: MetLife Pet Insurance isn't as widely used as others, but it has a fair share of happy customers loving the speed of both processing and paying out claims. Most owners had positive reviews of MetLife's plans, but there are a few pet parents who experienced incorrect claim denials that needed mitigation.
MetLife offers several plans with customization options, with the core offerings being:
Accident and Illness: Accident coverage begins after a one day waiting period, while illness coverage starts after 14 days. This covers new illnesses or injuries; not pre-existing health conditions. This does not offer preventative care coverage. Plans start around $29.
Accident and Illness plus Standard Wellness: This coverage includes everything the core accident and illness protection does in addition to wellness care, including routine checkups.
MetLife also has family plans available for multi-pet households, allowing you to add up to three dogs or cats under a single plan. This can offer serious savings in multi-dog families, plus it makes keeping track of each dog's insurance information easier. Just keep the annual benefit in mind and adjust accordingly, as your pets will share the amount yearly.
Features:
Claim reimbursement issued by check or direct deposit within 2 weeks (80% of claims processed in 10 days or less)
Pets can visit any licensed vet, emergency vet clinic, or veterinary specialist in the U.S.
Mobile app for added convenience
10% discount available for vets and shelter personnel
Military discount — military members, veterans, first responders, and healthcare workers can obtain a 10% discount
$1 monthly discount for purchasing coverage online
MetLife Coverage
Like all other pet insurance plans, MetLife insurance policies cover some types of care, while they do not cover others.
All MetLife pet plans cover:
Accidents
Illness
Hospitalizations
Surgeries
Diagnostic tests
Exam fees
X-rays
Ultrasounds
Medications
Holistic care & alternative treatments
MetLife care plans do not cover:
Pre-existing conditions
Elective procedures
Expression or removal of anal glands or anal sacculitis
Breeding or conditions related to breeding
Pet food, special diets, vitamins, or mineral supplements
Grooming costs and bathing (including medicated baths)
Parasite prevention and parasite treatment
Info Needed to Obtain a Quote:
Pet's name
Pet's age
Pet's color
Pet type (dog or cat)
Pet's gender
Pet's breed (pure or mixed)
Pet's size (under 20 pounds, between 20 and 100 pounds, over 100 pounds)
Your email address
Your zip code
Your employer (optional to check for discounts)
Selecting a Plan:
Once you fill in the basic information required for a quote, you're presented with three tiers of accident and injury plans as a starting point. Each offers different annual benefits, deductibles, and reimbursements, giving you several options to choose from. These do not include preventative care, but they automatically include a $1 monthly discount for purchasing online.
From here, you can customize to make the plan that best works for you and your doggo.
Customization options include:
Annual Benefit (Maximum amount of reimbursement per policy year):
Deductible (Amount of money pet parent must pay before MetLife pays a claim):
$50
$100
$250
$500 (while the high-deductible tier offers an amount above this, no options exist above $500 during customization)
Reimbursement (percentage of the covered allowable charges that MetLife covers per policy year):
70%
80%
90% (while 100% is available in pre-set tiers, it's not an option during customization)
This is also where you can add on preventative care to your coverage package, called Standard Wellness. MetLife doesn't list out examples of what's covered by Standard Wellness, instead defining it as "any treatment, service, or procedure for the purpose of prevention of injury or illness or for promotion of general health, where there has been no injury or illness."
Adding Standard Wellness onto the "Most Popular" tier, nearly doubled the monthly price as you can see above, but still, the cost is not too bad, considering this also covers routine canine care.
MetLife Customer Reviews:
The claims process earned praise from several pet parents, plus the app was a real selling point for convenience, as you can handle claims on the go. Most found the process to be quick and painless with prompt payout.
One reddit poster with repeat instances of great claim turnaround noted:
"I've only had MetLife for a little over a month. I got it for a new puppy & bought the wellness package. I got 10k max benefit annually (you can get higher if you call them) $100 deductible and no co-pay. It costs around $80 a month. So far I've filed 3 claims and they've all been paid within 8 days.
$144 for vaccinations & exam received $44 payment. $168 more vaccinations, and fecal test, received payment of $168. And a scare when we found puppy playing with an ibuprofen tablet, there were two on the floor one was intact and the other was broken up into small pieces, we couldn't be sure if there had been more and that she might have eaten one so we took her to the vet, they kept her for the day and treated her and released her – she's fine by the way. Bill was for $431 Metlife paid all of it. So far I'm impressed by the quick turn around on payments."
While this top-notch experience was echoed by several pet parents, others have dealt with frustrating claim denial headaches, like this pawrent:
"I would not like to have to appeal 2/3 of filed claims."
"I guess I'll be the dissenter and say that I'm not totally enthusiastic about them. They initially denied my first claim as a preexisting condition when it just… wasn't. I'd submitted adoption records and all medical records I had to date, and there was no indication of the illness. I did win the appeal, but I was not thrilled that I had to get to that point.
The second claim I filed was for follow-up imaging related to the same illness, and I am relieved to say they reimbursed for that without incident, as that was my largest claim by a considerable margin.
The third claim I submitted was for follow-up testing related to the same illness — repeat titers for the illness itself and additional liver enzyme testing on account of the medication she's been on. It was initially denied again, and I had to appeal again (and won)."
---
4. Petplan
Petplan
Best for purebreed dogs
Customizable co-pay with a host of extras like coverage for alternative therapies, behavioral therapy, and serious dental work.
PremiumVaries
Deductibles$250 – $1,000
Reimbursements60% – 100%
About: Petplan is generally very well-liked by customers, with Reddit users being particularly vocal about Petplan. PetPlan offers a lot of customization options, allowing you to find a monthly deductible that will work for your budget.
They also cover a lot of extras that not all other providers cover, like dental work, behavioral consultations, and alternative therapies. They're also great about covering chronic and hereditary conditions, making them a favorite provider of purebreds.
Features:
Choose your co-pay (from 60% – 100%)
15 day wait period for accident and illness. 6 month exclusionary period on hip dysplasia, cruciates and patellas
Illnesses due to hereditary and chronic conditions are covered (but not if they are pre-existing)
Alternative therapies like acupuncture and homeotherapy are covered (so long as it's recommended by a vet)
Non-routine dental work is covered
Behavioral therapy consultations (which can run into the $500+ range) are covered – so long as the behavior issues are due to an underlying medical condition is the cause
Petplan Coverage:
Some things Petplan covers include:
Accidents, injuries + illnesses (includes hereditary and chronic conditions, but not pre-existing)
Non-routine veterinary exam fees (aka covers vet exam fee when you have to visit the vet due to an illness or injury)
Diagnostic treatments (includes laboratory work, diagnostic testing, specialized chemistry, and hematology for any illness or injury – but not for pre-existing conditions or elective surgery)
Cancer treatment (chemotherapy, radiology etc)
Genetic and pre-existing conditions
Prescriptions (vitamins, heartworm / flea and tick preventives excluded)
Routine checkups
Surgery and rehabilitation therapy
Alternative therapies (ex. acupuncture, homeotherapy, chiropractor treatment, and stem cell therapy all covered so long as it is recommended and administered by a veterinarian)
Non-routine dental work (so long as your pet's teeth are cleaned and given the OK by your vet within 60 days prior to beginning your plan)
Referral & specialized treatment (e.g. surgery, oncology, cardiology, ophthalmology, dermatology, dentistry, neurology)
Imaging (x-ray, MRI, CAT scan, ultrasound)
Behavioral therapies (if your vet refers you to a behavioral therapist. Note that details say the consultation must be to diagnose and treat behavioral problems where an underlying medical condition is the cause of your pet's behavioral issues)
Advertising + reward (covers the cost of advertisements or reward offer if your pet goes missing)
Death or theft (if your dog is stolen or dies due to a covered injury or illness, you can be reimbursed for what you paid for your pet)
Vacation cancellation (travel and accommodation you can't recover if your pet becomes injured or seriously ill before a planned trip)
24/7 PetPlan customer support
Boarding kennel fees if you (human) require a hospital stay over 4 days
Info required for quote:
Pet's name
Pet's weight
Pet's breed
Zip code
Email address
Selecting a Plan: With Petplan, you can select anywhere from 60% co-pay to 100% payment. You also have the option to choose your annual deductible as well as the maximum annual coverage limits via their slider tool.
In the screenshot below, I chose 90% reimbursement, unlimited annual payout, and the lowest deductible possible.
Then, I experimented with choosing 70% reimbursement, the lowest annual payout, and the highest deductible possible.
Most owners tend to choose an option in between these two extremes.
Filing a Claim With Pet Plan
Customers report that the claim service is fantastic and relatively hassle-free.
Several customers report saving thousands of dollars related to injuries and illness over the lifetime of their pets.
Petplan Customer Reviews:
"They're Usually Quick"
"My sister and I have PetPlan. My cat is 9 and has been with me since he was a 6 month old kitten. I have never had problems with PetPlan reimbursing us for the things they said they would. And they're usually quick. I have had to make two claims and both times the check arrived in the mail within 2 weeks.
My sister's cat had cancer and died after her having it for less than a year. And that's how we discovered PetPlan wants 2 years of medical records for them to process your claim. No records, no dice." – Reddit user u/AlotOfPhenol
"PetPlan Has Been Amazing"
"PetPlan has been amazing for us. Excellent customer service, no round arounds, checks arrive within 2 weeks of claims submitted." [source] 
---
5. Embrace
Embrace
Solid insurance option with plan customization and short wait periods
Embrace wasn't as popular on the threads we scoured, but the reports we did collect about Embrace were generally positive.
PremiumVaries
Deductibles$200 – $1000
Reimbursements70% – 90%
Features:
Many good reports on always paying claims
Users report the option of getting 90% of expenses covered after $1000 deductible
Option to pick the annual coverage limits ($5,000, $8,000, $10,000, etc.)
Embrace is a partner with USAA, so if you use USAA you might be able to get a discount
Embrace's wait period is shorter than others – just 48 hours for accident coverage and two weeks for illness coverage. All dogs have a 6-month waiting period for orthopedic conditions.
10% discount when adding an extra pet
5% discount for current and former military members
Easy to track claim status online or with mobile app
Embrace coverage includes:
Cancer treatment including chemotherapy
Chronic conditions (such as allergies)
Congenital conditions
Dental trauma
Exam fees
Genetic conditions (such as hip dysplasia)
Prescription drug coverage
Allergy testing
Alternative therapies (such as acupuncture)
CT scans, MRIs, X-rays, & ultrasounds
General, specialist, & emergency care
Hospitalization & surgery
Lab tests & biopsies
Physical therapy (such as hydrotherapy)
Re-evaluating curable conditions
Like all pet insurance policies, Embrace does not cover pre-existing conditions. However, if your pet remains symptom and treatment-free of a curable condition for 12 consecutive months, they will reevaluate coverage.
Info required to obtain a quote:
Pet's name
Pet type (dog or cat)
Pet sex
Pet breed
Pet age
Your zip code
Your email address
Phone number (optional)
Selecting a Plan:
After filling out the info, you'll get the option to select your:
Annual Reimbursement Limit: What's the maximum Embrace will reimburse you each year?
Annual Deductible: The amount you'll pay each year before Embrace's coverage kicks in.
Reimbursement Percentage: What percent of costs Embrace will cover.
Embrace lets you customize a lot of the policy, allowing you to reach a monthly premium and deductible that will work with your current situation.
Embrace also offers the option for adding on Wellness Rewards — a reimbursement for routine annual care that can be added on to any standard Embrace plan.
Embrace Customer Reviews:
"Can't Imagine Not Having It"
"We pay $23 monthly for Embrace and within the first year of getting our pup I can't imagine not having it. She randomly developed a horrible cough one day which turned out to be aspiration pneumonia.
The X-ray's, visits and meds were over 1K in total. Our vet filled out our insurance form and faxed it over and we had a check mailed to reimburse us. We've since had smaller claims for things like warts and stuff and never had an issue with the insurance reimbursing us." – u/Cashope [source]
"The insurance policy though, has paid for itself "
I have 2 german shepherds, 1yo and 1.5yo. We have Embrace, and pay $98/mo for their premium, and $18/mo for a wellness plan for the older. We have had our policy since August.
IMO the wellness is plan is not worth it. The older takes 5 supplements a day, and he maxed out the annual allowance in 3 months. It has saved me almost nothing after everything was said and done.
The insurance policy though, has paid for itself already. The younger chews everything, plays really rough, and has been diagnosed with Panosteitis (the testing to diagnose this was thousands). He has been to the vet more times than I can count. Not once has Embrace given me a hard time. We do have a deductible to meet, but I'm happy with my experience and will continue to maintain a policy with Embrace.
Reddit user u/jejunebug [source]
---
6. Nationwide
Nationwide
Multiple coverage options for more complete care
Many customers had no issues with Nationwide, while others found it difficult to receive policy pay outs.
Premium$30 – $100
DeductiblesVaries
Reimbursements50% – 90%
About: Nationwide received mixed reviews from users online. Some found the coverage adequate, while others were frustrated with how difficult it was to get Nationwide to pay out on the policy.
Nationwide offers two coverage options – a more comprehensive "Complete Coverage" or a more budget-friendly "Medical Coverage" with lower monthly premiums
Complete Coverage: Covers 90% of vet bills after your deductible is met. Since 90% is the only coverage option, monthly premiums aren't cheap, starting at $64 per month.
Medical Coverage: A more budget-friendly option starting at $34 per month. Doesn't cover flea/heartworm prevention, vaccinations, or annual wellness exams. Only covers some hereditary conditions after a year.
Features:
5% discount for existing Nationwide policyholders
Nationwide Coverage:
Coverage highlights:
Accidents and illnesses
Surgeries and hospitalization
Prescriptions
Chronic conditions
Hereditary conditions (no waiting period)
Wellness exams and tests
Flea/heartworm prevention
Vaccinations
Info needed to obtain a quote:
Pet's name
Pet type (dog, cat, or exotic animal)
Pet age
Pure or mixed-breed
Your zip code
Your email address
How you heard about Nationwide
Selecting a Plan:
After filling out the quote info, you'll get the option to select between a few different plan types:
Predictably, the highest monthly premium plan covers the most, with tons of extras like spay or neuter cost, Rx diets, dental disease, and behaviorial treatments.
However, Nationwide also offers the option for a more basic and affordable plan, as well as a mid-range plan that covers the essentials plus vaccinations, wellness exams, bloodwork, etc.
Before you finalize your plan, you'll also have to answer other questions, such as:
What color is your dog?
What gender is your dog?
Is your dog spayed / neutered?
When did you get your dog?
Has your dog ever had the following conditions (vomiting / diarrhea over 48 hours in the past 6 months, allergies, bumps, etc)
Has your dog had a physical examination by a vet in the past 12 months?
Has your dog ever visited the vet for anything besides a routine visit?
What vet do you currently use?
Nationwide Customer Reviews:
Nationwide got a lot of mixed feedback from Reddit users. Some were perfectly happy with Nationwide, but others were frustrated by the hoops and hurdles that had to be jumped through in order to have claims paid out.
At least one user reported that, after a year and a half of being with Nationwide, they refused to pay for a TPLO (tibial-plateau-leveling osteotomy) surgery because it was diagnosed within 12 months of starting the policy. Which means, they basically won't cover anything within the first year.
Another Reddit user reports that:
"Nothing But a Pain"
"I got Nationwide/VPI for our two dogs. They've been nothing but a pain in the ass as far as paying out claims. Preventative and emergent claims denied multiple times, months going back and forth providing vet documentation. Hands down the worst experience one could have and we are locked in for 5 more months. Better off just saving a specific amount each month."
---
Pet Insurance Review: How Does Pet Insurance Work?
Pet insurance is a fairly simple premise at first glance – it works similarly to human health insurance, where you pay a monthly premium in exchange for insurance coverage that will pay a percentage of your dog's veterinary care and bills.
How much are pet insurance premiums?
Pet insurance premiums are generally between $20 and $80 per month. However, plans can be more expensive, as there are a lot of variables.
The amount you end up paying for pet insurance can vary a lot depending on:
Location
Pet age
Breed
Plan type
Deductible selection (i.e. how much do you need to pay out of pocket expenses before the coverage kicks in)
Reimbursement percentage choice
The specifics of how plans work can vary – for example, Healthy Paws and Embrace will pay a flat percentage of covered costs once your annual deductible is met.
However, other pet insurance companies may calculate reimbursements based on how much vet care generally is in your region.
It's important to keep in mind that with pet insurance, you are the middleman. It's not like with human insurance, where the billing and cost calculations go to the insurance company first before sending the final bill to you.
In most cases, you will need to pay your vet upfront for the cost of service. Then after approximately 2 to 4 weeks, you will get reimbursed by your pet insurance provider.
This means that even with pet insurance, you still need to be able to come up with that initial treatment cost money at the time of the event.
Does pet insurance require you to cover a deductible before it starts covering your pet's health care?
Your pet insurance deductible is how much money you will have to pay toward vet services before the pet insurance company starts paying.
You can think about deductibles and premiums as on opposite ends of a see-saw. When deductibles go up (aka you need to pay more out of pocket expenses before the insurance kicks in), your monthly premium goes down.
With many pet insurance companies, you choose the deductible.
Let's imagine that you have a $700 annual deductible. During the course of that year, you will have to pay 100% of vet bills for the first $700.
Once you've hit that $700 mark, your pet insurance plan kicks in. For this example, let's say you selected a reimbursement level of 80% (for a higher monthly premium, you can choose reimbursement levels of 90% of even 100%).
Let's say next time you go to the vet, you get a $1,000 vet bill for surgery. Pet insurance pays $800 and you pay $200. The $200 is your co-payment.
When does pet insurance coverage start?
Most pet insurance companies have a 30-day wait period, which means you will not be able to use your pet insurance policy for 30 days from the sign-up date.
This means you won't be able to notice your dog is limping at home, sign up for pet insurance, and then go to the vet the following week expecting the pet insurance company to cover any expenses incurred.
How Is Pet Insurance Different From Human Health Insurance?
Most think of pet insurance as akin to health insurance. After all, if we get sick, we use our health insurance to get treatment. If our dogs get hurt or sick, we use pet insurance to get them treatment, right?
Well, yes, but really, health insurance is not a good comparison to pet insurance.
In reality, pet insurance is a type of property insurance. Gasp! I know — we aren't the kind of folks who think of our pets as "property" but that's what they are technically considered under the law.
Pet insurance actually functions quite differently than human health insurance. Human health insurance is usually subsidized for most people, by their employer or the government. This is not the case for pet insurance.
However, it's worth noting that some employers are beginning to offer a pet insurance option, so make sure to ask human resources about it!
Some other ways in which pet insurance is different from human health insurance:
Payment Is Required Upfront
With the vast majority of pet insurance plans, you will have to pay the vet treatment cost upfront — regardless of your plan — but the pet insurance plan will reimburse you within a set time period if your claim is accepted.
The reimbursement time can vary – some users have reported getting reimbursed before the week is up, while others may have to wait a month or more.
There Are Usually No Network Restrictions
Your pet insurance will usually be accepted at all vet offices — you don't need to worry about staying "in-network" as you do with traditional human health insurance.
There Is Not as Much Regulation or Consumer Protection
Pet insurance is a very unregulated industry, which means it lacks many of these protections and oversight that human health insurance has.

Basically, pet insurance companies set the rules and that's that.

This is why pet insurance companies are able to not cover pre-existing conditions or certain breeds, where these kinds of exclusions would never fly for human health insurance.
When Should I Get Pet Insurance?
If you decide you want to get pet insurance, you should ideally sign up as soon as you get your dog.
The reason for this is that most pet insurance companies won't cover pre-existing conditions. So the earlier you get pet insurance, the better chance you'll have of being covered for any expensive issues that may arise.
Puppy insurance is also generally cheaper than senior dog insurance, as insurance is always cheaper for healthier, younger pets.
Pet insurance is also ideal for young pets because — let's face it — while puppies and kittens are objectively adorable, they're also pretty stupid.
They eat things they shouldn't. They are clumsy. They don't listen very well. They get sick easily. They run out the back door into the street because they saw a butterfly. They want to go say howdy to the aggressive dog across the street because they have no social skills and aren't reading the get the heck away from me vibes the other dog is putting out.
The 3 Main Types of Pet Insurance
There are a few different types of pet insurance available. Accident and illness coverage tends to be the most common plan, but there are other options too.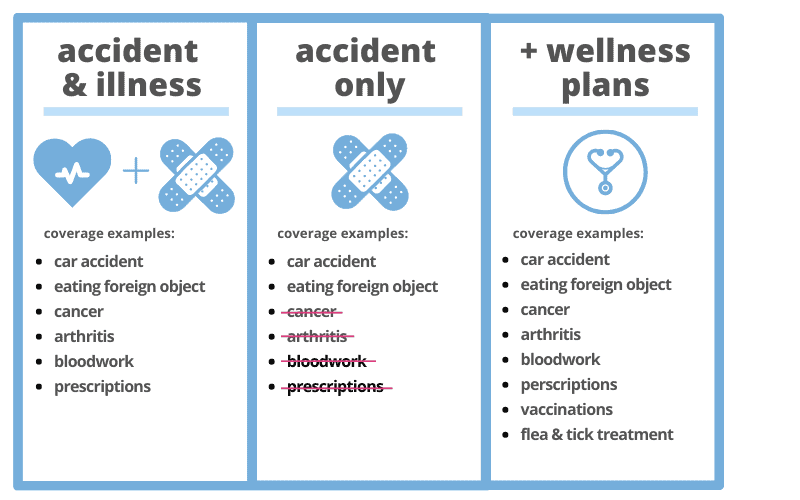 Accident & Illness Coverage Plans (aka "comprehensive coverage"). This type of plan is the most popular, covering emergency accidents (such as your dog ingesting a sock or being hit by a car) as well as illnesses (such as cancer, arthritis, etc). Over 80% of pet insurance plans are accident & illness plans.
Accident-Only Coverage Plans. This type of plan will only cover emergency accidents, such as a motor vehicle accident.
Wellness Plans. This is a relatively new type of plan that is becoming increasingly popular. Wellness plans don't function like normal pet insurance – instead, they cover routine care, such as annual exams, flea and tick treatments, vaccinations etc. They usually function as add-ons to standard accident & illness pet insurance plans.
Standard pet insurance plans are accident & illness plans. There is a category of "wellness plans" — these aren't technically pet insurance plans, but they are popular – and we'll detail them more below.
Standard pet insurance plans cover injuries and accidents (aka lacerations, hit by car traumas, fractures) or illnesses (kidney disease, infection, cancer, etc).
Types of Pet Insurance Deductibles
Despite pet insurance functioning differently than human health insurance, a lot of the terminology used is the same. Plans will require you to pay a deductible before your plan kicks in.

Basically, a deductible is a set dollar amount you must pay for veterinarian treatment before your plan starts paying for things.
There are a few types of deductibles:
Annual Deductible (Most Common). You will need to pay a certain amount out of pocket before your plan kicks in, with your deductible resetting each year.
Per Condition Deductible. You will need to pay a deductible for each illness or condition your dog has before your plan kicks in. Sometimes these deductibles reset each year, while in other cases they are for your pet's lifetime. This might mean you need to pay $100 for your dog's allergy treatment initially, but then for the rest of your dog's life, all future allergy treatments are covered.
Types of Pet Insurance Benefit Limits
Depending on your plan, you will encounter different kinds of limits as to how much your provider will cover.
Unlimited Lifetime. Once you hit your deductible, the pet insurance company will pay 100% of your pet's medical bills.
Annual Maximum. Some pet insurance companies will cap payouts on an annual basis (ex. $10,000 per year). Once you hit the annual limit, you will no longer be reimbursed for vet treatments that year. The annual limit restarts each year.
Annual Per Incident. Some pet insurance companies operate on a per illness setup, with a maximum dollar amount they will reimburse for a specific illness or condition in a given annual year.
Lifetime Maximum. This is the maximum amount the pet insurance company will pay out for the lifetime of your pet (either as a total amount or per condition). Chronic conditions like canine allergies can easily hit a lifetime maximum limit.
There is a ton of variation when it comes to pet insurance benefit limits. The most popular plans are those with 100% unlimited lifetime coverage, but those come with some very hefty monthly premiums.
Other pet insurance companies offer unlimited annual coverage, but will still also have caps for treatments cost per condition. Some have caps on annual coverage as well as per-treatments costs (these tend to be the plans with the most affordable monthly deductibles).
What About Pre-Existing Conditions and/or Breed-Specific Issues?
Unfortunately, most pet insurance plans will not cover pre-existing conditions. Which means, if you go to your vet and find out that your dog has hip dysplasia and needs surgery, then go home and try to sign up for pet insurance that evening, your dog's hip surgery will not be covered.
This is why in general, if you choose to get pet insurance, the sooner you sign-up, the better.
Should You Get Pet Insurance? 11 Factors to Consider
Pet insurance can be a lifesaver for some folks. But for others, it just doesn't make a ton of sense. Let's go through a few different factors that might make pet insurance a better choice for some over others.
Is your dog a working dog?
Is your pup a working boi? Does your dog herd sheep, hunt varmits, or track prey?
If so, then you can expect higher than normal vet costs for broken nails and other wear and tear issues.
Does your dog engage in high-risk activities?
What do you and your dog do together? Do you go hiking with your dog? Do you participate in dock diving, agility, or other dog sports?

More time out and about amounts to more risk.

We're not saying we'd have it any other way, but the fact is, the more extra-curricular your dog is involved in outside of the home, the higher risk he'll have of injury compared to a sleepy couch potato.
How risk averse are you?
Are you generally a person who feels anxious or nervous about not having your ducks in a row? Does the idea of an unexpected financial need make you lose sleep at night? If so, pet insurance might be a way to give you peace of mind.
On the other hand, if you are a more care-free individual who prefers to deal with problems as they arise, maybe pet insurance won't be a necessity for you.
Do you have $5,000 to $10,000 to spare on emergency medical treatments?
If you do, you probably won't benefit a ton from pet insurance, since you can simply pay out of pocket.
However, if this would be a devastating financial hit, it may be easier to pay the smaller, ongoing monthly premium to bypass the risk of a huge lump financial incident.
Do you plan on breeding your dog?
Medical complications can arise from breeding, and the additional healthcare you'll want to provide a pregnant dog with may make pet insurance well worth the extra cost.
What breed is your dog? Is the breed known for having certain medical issues?
Some breeds are historically more at risk of dealing with genetic issues or physical ailments later in life. Toy breeds and giant breeds are infamous for having high rates of hip dysplasia. Some breeds have a history of cancer.
If you went to a breeder, find out if the parents, grandparents, and siblings of your dog have run into any health issues as elderly dogs.
For these types of dogs, since it's often not a matter of if but rather when, it probably makes sense to cover yourself with pet insurance as soon as possible, before your dog begins to show any problems.
Keep in mind that many pet insurance providers have a 1 year wait period for more common issues like hip dysplasia, so if you suspect there is a decent chance you'll have to deal with some health issues in the long term, you're better off getting pet insurance as soon as possible.
What size is your dog? Is he or she very big or very small?
Toy breeds and giant breeds tend to have more health issues than medium-sized or standard-sized dogs.
What is your living situation like?
Your current living situation can substantially increase your dog's risk depending on a number of factors, such as:
Do you live near a busy road? Living near a highway or busy road definitely poses more of a threat if your dog unexpectedly escapes.
Do you have a securely fenced-in yard? Fenced-in yards are great for doggos, but if you don't have a fence and rely on a tether or stake, your dog may be more likely to escape. Generally, it's smart to never leave your dog outside unattended, even with a fenced-in area.
How often is your dog off-leash? Dogs who are regularly off-leash are more likely to be hit by motor vehicles, get into scuffs with wild animals, etc.
Do you live in the wilderness? If so, how likely is your dog to encounter dangerous wildlife that could pose a risk?
What are your neighbors like? If your neighbors have un-controlled aggressive dogs, your own loose dog could be put in additional danger.
What are the most common environmental diseases or parasites? Ask your vet about what sort of environmental diseases you've seen dogs catch (i.e. will expensive treatments be a likely occurrence?).
There are also less obvious risk factors too – for example, if you live in a household where many people are coming and going, there is an increased risk of your dog escaping due to someone forgetting to close the gate or leaving the door open.
These risk factors don't mean you are a bad owners or should not have a dog – it just means that you could potentially be dealing with a situation where your dog is more likely to be hurt, so consider all the risk factors associated with your household.
How is your dog's training?
Dogs with poor recall (aka they don't come when called) will be in much more danger if they escape outside than dogs who will reliably come when called.
Other risky dog behaviors include:
Escape artists / fence jumpers
Fearful dogs (who may be more likely to bolt in unexpected situations)
Prey-driven dogs (who may be willing to chase down a squirrel, even across a busy street)
Counter-surfing (aka jumping on kitchen counters to look for scraps. These dogs could potentially get into dog-toxic foods like chocolate or grapes).
How often will your dog be left alone?
Unmonitored dogs are more likely to get into mischief, and potentially be hurt in the process.
If your dog is often left home alone, will he be in a kennel, crate, or some other safe space?
Do you have good credit?
Do you have good enough credit where you would be OK taking CARE Credit to finance the rest of a sudden expense you couldn't afford if you didn't cover your dog?
Pros & Cons of Pet Insurance: Why It Does (And Does Not) Make Sense
As with most other canine care issues, there are good things and not-so-good things about pet insurance plans. And to make the best decision for your circumstances, you'll need to take both into consideration.
Benefits of Pet Insurance
It may prevent you from having to make a very difficult choice.
Are you comfortable dropping a couple of thousand unexpected dollars on your furry family member? Or, alternatively, are you comfortable having them put down if need be?
If choosing between a big immediate financial cost or the life of your four-legged buddy is a decision that frightens you or causes you to hesitate, pet insurance can save from ever having to make such a terrifying decision.
It'll make most pet treatment expenses more manageable.
Pet insurance may not save you a ton of money overall, but for many folks it's easier to plan on a $20 per month cost, knowing that they will get reimbursed for a $2,000 surgery, rather than being forced to pay a lump sum $2,000 for a surgery out of the blue, without warning.
This is doubly true when you have multiple pets, wherein a bad month could result in tens of thousands of unexpected costs.
Downsides of Pet Insurance
Most pet insurance companies are very picky about pre-existing conditions.
If your dog is already sick, there is not much you can do in terms of insurance coverage.
Pet insurance doesn't always save you any money in the long run.
For many people, pet insurance ends up just breaking even with what an average owner might pay for the health of their pet over their lifetime.
How to Evaluate a Pet Insurance Company
When choosing between various pet insurance companies, consider these criteria and factors for choosing the best fit:
Ease of filing claims. Some companies make it very easy to file claims, with handy apps that can have documentation uploaded to your account, while others make filing more of a to-do.
How quickly are claims evaluated and reimbursements processed?
How quickly can I get my pet covered? Most pet insurance companies have a 30 day waiting period.
Pet Insurance Pro Tips: Keep This In Mind
Premiums will increase as your dog ages. The premiums go up a lot as your dog gets older. Many people get pet insurance for young, healthy pups and then drop the plan when the monthly premiums get too high. However, this is the point where your dog – who has grown older – starts needing more care and will be more likely to need the benefits of pet insurance.
You can (usually) change your mind. Many pet insurance companies allow you to cancel your policy within 30 days of purchase. This can be handy if you purchase a policy thinking a certain illness will be covered, only to find out that the insurance company considers it a pre-existing condition.
Pet Insurance Alternatives: What Are Your Other Options?
Of course, pet insurance isn't the only health-care funding game around. See how some other options stack up against conventional pet health care plans below!
1. Open a Dog-Only Emergency Credit Card (AKA Self-Insure)
Some folks, realizing that pet insurance most likely won't save them any big bucks when all is said and done, choose to simply open a credit card that isn't used for anything except for one's pet.

It's a dedicated line of credit for doggo-related emergencies (although note that you'll still need to use it to buy a cup of coffee on occasion to keep the credit card active).
This is probably only an option if you have decent existing credit. It's certainly easy enough and hassle-free, but a better option might be opening a CARE credit card (see below).
2. Modify Your Renter's Insurance
Another option you may want to consider is adding pet coverage to your renters insurance policy.
Most renters insurance policies provide some form of pet liability. Covering legal risk in case your pet causes injuries or property damage to other people.
Some renters insurance policies also offer the option for extra emergency pet care coverage, if the incident occurs at your place of residence.
3. Spend That Money on Training Instead!
One of the best ways to save money with any dog is to properly train and care for them.
Many dogs rack up expensive surgeries from swallowing clothes, or jumping the fence gate and getting hurt. Situations like these can be prevented through responsible, respectful dog training.
Sure, good training takes work and time on your part, you'll experience numerous benefits including:
A better relationship with your dog
Being able to get dangerous objects out of your dog's mouth by instilling a solid "drop it" and "leave it"
Dogs often resort to destructive behavior (such as eating and chewing things they shouldn't) when they are bored – so if your dog has a history of mischief-munching, try LickiMats, frozen dog toys, long-lasting dog chews, or puzzle toys to keep your dog's mind and mouth engaged.
Proper physical care can go a long way to preventing canine health issues too. Poor diet and lack of basic preventive care such as teeth brushing, grooming, tick treatment, etc can end up resulting in big, costly illness and sickness down the line.
Instead of waiting until things get bad, consider:
Is Pet Insurance Worth It? What Reddit Users Have to Say
The debate over whether pet insurance is worth the cost really depends on your financial situation and how risk averse you are. Here's what some Redditors have to say about pet insurance:
I don't EVER want to decide between $10K (cancer treatments for example) and putting my dog down. I don't have to decide with pet insurance. If you wait to get it when your pup is middle aged, pet insurance will be extremely expensive and no longer worth it

Source: Reddit r/puppy101
Just my experience – we don't have it for our puppy and he hasn't needed it. His only non-required (vaccines, neuter, etc.) vet visit was for a case of diarrhea and upset stomach, and only set us back about $100-$200. I would say pet insurance is good if you don't have an immediate financial cushion to absorb $1000-$2000. Definitely don't look at pet insurance as a way to save money – look at it as a sort of forced savings plan for inevitable vet bills. We're doing it the other way – a savings account for those vet bills

Source: Reddit u/maggock via r/puppy101
I would never consider this [pet] insurance to be frugal, but it is helpful when you get hit at a bad time in your life. Some people claim they "made out" because they spent less overall compared to the treatments needed in total, but these people are the minority (otherwise the companies wouldn't survive).

The other alternative (which I recommend for those who can afford it), is to have a nest egg exclusive for pet emergencies. If it is a cat, I recommend $3k as a buffer for serious illnesses or injuries. For mid-sized or larger dogs more like $5k. That way you have the money already, and you can afford the therapies without risking a likely overall financial cost in the long run.

Source: Veterinarian u/okverymuch via r/frugal
[I have] pet insurance for $20 a month, $250 deductible, and then 80% coverage after that. In the first 4 months having the dog, he had a bladder infection, paw infection, and had to have his tail amputated (look up "happy tail", it's a terrible thing).

With the procedures, medication, follow-up visits, and associated costs, our pet insurance saved us roughly $2,500. There was one claim ($80), which was rejected, but other than that, we've had great experience [with PetPlan].

If you were to ask me before all of this, I would be on the fence whether or not it was worth it since I had many dogs growing up and none of them had any medical issues. Now that we've used it and it was a huge help, I would say that it is worth it. This carries the caveat that all insurance does; it's great if you use it but hard to see the benefit if you never use it.

Source: Reddit r/personalfinance
I pay $36 a month for my dog. I got her from a shelter and had one visit denied due to a pre-existing condition (which genuinely was a pre-existing condition). In five years I've used it pretty rarely, but (and here is the big but) 6 weeks into having her she swallowed something and required a $5,000 doggie ER visit.

At the time I was in my early twenties, and working at a non-profit for less than $40,000 a year in an expensive city. I would not have been able to pay that bill easily. The peace of mind of being able to tell the vet to do whatever he thought was best and know that it would be covered was well worth it and $5,000 is more than I would want to be putting on a credit card and paying off and well more than I would have saved over the last 5 years putting that $36 a month into savings.

I'm glad I got it when she was young though because it'll cover her through old age, my understanding is with older dogs it is harder to get things covered (pre-existing conditions). It isn't so much the money saved, but the decrease in anxiety that comes from knowing I don't have to make tough choices about her medical care based on a fear of incurring high expenses.

You do have to pay up front and get reimbursed so I ended up getting a credit card that I put nothing on and hold onto in case of an emergency. When I was looking at policies I called my vet and asked what ones they recommend [Embrace]. My vet (and the local 24 hour doggie ER) submits all the paperwork and I get a check, so that part is fairly easy. I make a lot more money now, but I keep the insurance because I don't want to have to decide between an $800 dollar treatment that may work or a $1,500 treatment and $200 testing first that is more likely to work/ be better for the dog.

For me pet insurance means the difference between having to go with the cheapest option in an emergency situation and finding a way to pay versus having the freedom to ask for the best medical care for my dog whatever the cost.

At this point my expenses even out so what I save is honestly about what I spend in monthly fees (aside from that one expensive visit), but there is something really nice about being able to tell a vet to just do whatever they need to do and not have to worry about the cost in the same way that I would without insurance.

Source: Reddit r/personalfinance
---
Pet Insurance In a Nutshell: You're Paying for Peace of Mind
So, is pet insurance worth it?
Well, it really depends. I know that's not the easy answer, but it largely comes down to risk management.
If you cannot afford the worst case scenario of a costly pet emergency, but can afford a reasonable monthly premium, you'll be in a much better position to avoid an unexpected situation that you cannot afford.
In short, pet insurance should really be looked at as a way to manage risk – NOT to save tons of money.
Deciding whether or not pet insurance is worth it can be done via some basic math.
Pet medical costs per year x expected pet lifespan = total cost of insurance
Pet insurance isn't exactly cheap, and for most folks, the cost of pet insurance compared to the vet bills the average dog will wrack up, it'll likely be pretty close to break even.
However, many people feel like pet insurance is the right option for them.
---
Pet Insurance FAQs
How much does pet insurance cost?
Generally speaking, pet insurance can cost anywhere from $25 – $80 per month, per pet, with most plans offering a discount when you add additional pets past the first.
However, the exact cost of your pet insurance plan can vary based on:
Breed (purebreds tend to be more expensive due to more hereditary conditions)
Age (younger dogs are cheaper to insure than older dogs)
Coverage options that you choose (such as your chosen deductible)
When is the best time to get pet insurance?
The sooner the better! Since pet insurance does not cover pre-existing conditions, the earlier you sign up for pet insurance, the more you'll benefit from your coverage.
Puppyhood is a great time to sign up with pet insurance because premiums tend to be cheaper for younger dogs. And, while puppies aren't as likely to suffer from expensive medical conditions, they are known for getting into mischief and eating things they shouldn't, which can make insurance coverage particularly comforting.
How long does pet insurance take to kick in?
Pet insurance plans usually require a 30 day wait period before coverage kicks in. Some plans – like those offered by PetPlan and HealthyPaws – only have a 2-week (approx) waiting period.
What are the best pet insurance plans?
The best pet insurance plan really depends on your coverage needs and budget, but PetPlan and HealthyPaws seem to be the most popular based on our research.
Is it worth it to get pet insurance?
Yes and no – most customers do not find that they save any money over the course of their pet's lifetime when they sign up for pet insurance vs when they pay out of pocket at the vet's office.
However, many owners note that paying a monthly fee is more manageable for them than paying one huge unexpected lump sum in the case of an emergency.
***
Do you have a pet health insurance plan for your doggo? Let us know what you think about it!
Has it proven helpful or nothing more than a monthly bill? Do you intend to keep paying for it? Have you felt better after obtaining wellness coverage? Have you run into a plan that had a particularly long or short list of covered conditions?
We want to know it all! Including the good and the bad.