Is it time to throw a party for your pup? Well, you'll need something sweet for Spot! No celebration is complete without a delicious dog-friendly dessert!
Cupcakes can be a great homemade treat for your dogs, but you need to use a recipe that contains only dog-safe ingredients. Below, we'll point out some of the things you can't put in a dog's cupcake and share a few recipes that fit the bill.
Why Are Cupcakes So Awesome for Dogs?
You may be familiar with homemade dog-safe cakes, but what makes cupcakes a particularly great choice for dogs? Here are a couple of reasons why pupcakes are an excellent treat for Fido.
Easy to Make — Many of these recipes contain a few simple ingredients that you probably have laying around the house already.
Portable — Taking your pooch party on the road? Cupcakes are super portable. You can even wait to put the frosting on the cupcakes until they're ready to be served for added convenience.
Portion Control — Dog cupcakes are perfect for large dogs and can easily be cut into half or quarters for smaller pups.
Less Mess — There's no need to cut up cupcake slices like a cake which makes for less mess.
Easy to Store — If your pupcakes are made without dairy-based frosting or filling, you won't have to keep Fido's treats (at least for a couple of days — it's probably wise to refrigerate cupcakes for long-term storage).
Cupcakes are an easy win for pups – but if you want a treat that's even smaller and more compact, dog cake pops are another option to consider as well!
Ingredients You Can't Include in Your Dog's Cupcakes
The most important thing to remember when making cupcakes for your canine is that you must leave out any potentially dangerous ingredients. But don't worry — this isn't too hard!
Here are some common ingredients you'll want to keep out of your dog's cupcakes. These ingredients can be toxic to your pooch in a cupcake or on their own, so be sure to keep them far away from Fido.
Xylitol — Xylitol is an artificial sweetener used in a wide variety of baked goods and household products. The sweetener is extremely toxic for pups and can be found in some peanut butter varieties, which are commonly used in canine cupcakes.
Chocolate — Chocolate of any kind is toxic for your dog since they contain theobromine and caffeine. If you're looking for a dog-safe alternative, check out carob. Carob's a fun ingredient to use in dog cookie recipes too!
Macadamia Nuts — Besides being dangerous for doggos, these nuts are expensive, and Fido wouldn't appreciate them anyway. 
Walnuts — Walnuts can be contaminated with fungi that'll make your dog sick, and they also represent a choking hazard. 
Almonds — While almonds aren't strictly toxic to dogs, they can cause gastrointestinal upset (especially in large quantities) and become an obstruction hazard. Even so, it's best to steer clear of almonds, just to be safe. 
Grapes and Raisins — Nobody knows exactly why grapes and raisins cause illness in dogs, but we do know that they are dangerous and can cause kidney damage. So, just skip them when making homemade treats for your pooch. 
Coffee — As mentioned earlier, caffeine is dangerous to dogs. Besides, do you really want Fluffy all hopped up on caffeine, zooming around the house? Just keep the coffee for yourself.  
One final ingredient you may want to avoid is white, all-purpose flour.
Although it is technically safe for dogs (when cooked in a recipe), it doesn't provide as many nutrients as some other ingredients.
Instead, opt for a whole-grain flour instead while crafting creations for your canine.
9 Dog Safe Cupcake Recipes
Without further ado, here are some of our favorite pupcake recipes for your next canine celebration.
Oh, and if you're looking to make things ultra-easy, there are dog-safe cake mixes you can purchase that can often be used in cupcake tins as well.
But for the baking-inspired, check out our favorite dog cupcake recipes below!
1. Carrot and Banana Dog Cupcake
These pup-tastic cupcakes from PetGuide are easy to make and are topped with frosting that can be piped for a bow-wow worthy treat. This carrot and banana cake is naturally sweetened with honey and apple sauce.
To make this cake, you'll combine carrots, unsweetened apple sauce, egg, honey, and banana with a dry mixture of flour, baking powder, and cinnamon. This batter is then baked for about 30 minutes at 350 degrees Fahrenheit. After the cupcakes are cooled, they can be frosted with a cream cheese and peanut butter frosting.
This recipe makes about 24 cupcakes, so you'll have enough treats for your pooch's entire pack.
Ingredients:
Grain-free or whole grain flour
Baking powder
Unsweetened applesauce
Grated carrots
Eggs
Ripe bananas
Cinnamon
Cream cheese
Honey
Peanut butter
2. Apple Cupcake
Apples are an excellent source of vitamin C and fiber which makes these cupcakes from Healthy Homemade Dog Treats a great choice. Plus, these cupcakes are made without frosting which makes them easy to transport for portable pooch partying.
To craft these cupcakes, simply combine apple, peanut butter, egg, and baking powder in a bowl. Pour the mixture into baking tins, bake at 350 degrees Fahrenheit, and voila! Your pooch will have a treat they simply can't refuse.
You can also frost the cupcake with additional peanut butter for some extra flair. Be sure to remove the cupcake wrappers before Spot starts scarfing down his pupcake.
Ingredients:
Peanut butter
Diced apples
Egg
Baking powder
3. Peanut Honey Cupcakes
If your pooch is a peanut butter fanatic, this recipe from Sprinkle Bakes is a great choice. You can also modify this recipe to create mini dog cupcakes if you have a pint-sized pup at home.
To craft these super simple cakes, mix honey, peanut butter, and the flour base with a little bit of milk. The cakes can then be popped into the oven for about 20 minutes. Once cooled, top the cupcakes with your dog's favorite small dog biscuit.
Note that although this recipe contains milk, the ingredient should only be given to your pooch in moderation, as it can give some dogs an upset stomach.
Ingredients:
Grain-free or whole grain flour
Baking powder
Baking soda
Skim milk
Peanut butter
Honey
Vegetable oil
Eggs
Small dog biscuits (optional)
4. Best Pupcake For Dogs With Sensitive Stomachs: Vegan Strawberry Oat Cake
This super simple pupcake from VegAnnie only contains 4 ingredients making it incredibly easy to whip up in a flash. The vegan, gluten-free cupcakes are perfect for pups that have a sensitive stomach. Plus, they're made entirely in the microwave as an added convenience.
To make this pupcake, mix quick oats, banana, strawberries, baking powder, and water. Pour the mixture into a ramekin and microwave for about 4 minutes. Once cooled, this cake can be served over a bowl of kibble or on its own.
If you don't have strawberries on hand, you can swap them out for blueberries or apples. This is a great single-serve pupcake option if you don't want to make a full batch of cupcakes.
Ingredients:
Gluten-free quick oats
Banana
Diced strawberries
Baking powder
5. Pumpkin Carrot Pupcakes
If your pup is a pumpkin lover, he's sure to love these pumpkin carrot pupcakes from My Modern Cookery. While these pupcakes may take a little bit more time than some of the other recipes, they look gorgeous and are sure to please your hungry hound.
To craft this dog-friendly treat, mix the pumpkin peanut butter base with greek yogurt that's safe for dogs and shredded carrot. Once baked, the pupcakes are frosted with a maple and peanut butter yogurt frosting that can be piped into the design of your choosing.
Ingredients:
Whole grain flour
Baking powder
Eggs
Maple syrup
Peanut butter
Pumpkin puree
Shredded carrot
Greek yogurt
6. Apple and Banana Pupcakes
These fruity cupcakes from Morsels and Moonshine can be served on their own or with a pumpkin puree topping. The recipe uses ripe bananas, making it a great way to use up your 'nanas before they go bad and treat your pooch with the same baked good.
To make these cakes, simply mix whole wheat flour, baking powder, banana, and unsweetened applesauce with a little bit of maple syrup. Pop these cupcakes into the oven and let them bake for about 25 minutes.
The pumpkin puree can be put into a piping bag to easily frost these Fido-friendly treats.
Ingredients:
Grain-free or whole grain flour
Baking powder
Banana
Unsweetened applesauce
Maple syrup
Pumpkin puree (optional)
7. Savory Dog Cupcake
If Spot salivates over savory treats, this pupcake from Food Fanatic might be the choice selection. The recipe yields about 12 full-sized cupcakes, and requires no frosting — your pooch will love them as-is!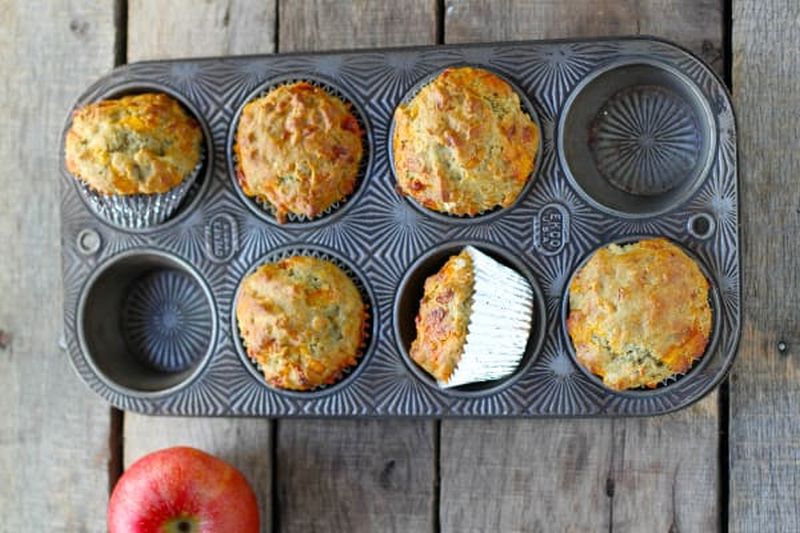 To craft this recipe, cheese, apple, and oats are combined with a flour base to create a muffin-like mixture. The cupcakes are baked for about 20 minutes and served once cooled.
For some added pizzazz, you can also bake in a bit of Buddy's favorite kibble into the mixture though these sweet yet savory pupcakes are totally fine on their own.
Ingredients:
Grain-free or whole grain flour
Old fashioned rolled oats
Baking powder
Baking soda
Applesauce
Vegetable oil
Honey
Eggs
Grated apple
Shredded cheddar cheese
8. Single Serving Dog Cupcake
If you just want to craft a single treat on Spot's special day, this apple peanut butter dog cake by A Saucy Kitchen is a great pick. This ultimate doggie delight is topped with peanut butter and bacon bits making it absolutely irresistible to your favorite furry friend.
To make this cupcake, you'll mix apple, peanut butter, egg, and a single egg. The mixture is poured into a ramekin and then baked for about 20 minutes. Once cooled, top the single-serve cupcake with piped peanut butter and bacon bits.
If you don't have bacon on hand, you can also crumble up your pup's favorite dog biscuit or place their favorite treat on top (we should also talk about why you don't have bacon on hand at all times, but we'll worry about that later).
Ingredients:
Apples
Peanut butter
Eggs
Baking powder
Bacon bits
9. Potato Banana Pupcakes
This peanut butter potato pupcake recipe by Recipe Tin Eats may not sound appealing to two-footers, but is sure to have your four-footer's tail wagging. The banana cake is super moist and topped with a mashed potato frosting making it the perfect balance between and savory.
To create this cake, a peanut butter, honey, and banana mixture is combined with a flour base. These cupcakes bake for about 22 minutes at 350 degrees Fahrenheit and are then topped with potato, yogurt, and honey frosting.
This recipe yields about 12 full-sized cupcakes and can be kept in an airtight container for about a week in the refrigerator.
Ingredients:
Ripe bananas
Peanut butter
Honey
Eggs
Grain-free or whole grain flour
Baking powder
Vegetable oil
Potatoes
Yogurt
***
Finding reasons to spoil our beloved four-footer is easy. With any of these doggone delicious dog cupcake recipes, your pooch will feel positively pampered.
Have fun crafting up these cupcakes for your favorite canine!
Have you had any success with these pupcake recipes? What's your favorite way to celebrate your dog? We'd love to hear all about it in the comments below!