Even the best fur parents need to get away from it all from time to time – raising adorable dogs is tough work!
But what do you do with your beloved pooches while you're gone?
There are a number of different dog-watching and house sitting services at your disposal.
We'll be listing the pros and cons of various services, as well as highlighting some top picks!
Different Dog Care Service Options
Option #1: Traditional Dog Kennel
Kennels are the traditional method of dog watching – the oldest trick in the book! With kennels, you send your pup off to a space specifically designed for dog care. Your dog will usually have his or her own kennel or crate, and then shared space to romp and play with other dogs.
Kennels can range in price and quality, with some higher end services acting as mini canine resorts! We always suggest taking a tour of any kennel you're considering before placing your pup.
PROS
Experienced staff who know what they're doing
Most dog kennels are run by regular dog experts – some are even organized by vet offices. With dog kennels, you can usually rest assured that your dog is in safe hands, and any insurance or liability issues are handled by the kennel.
At the very least, dog kennel owners make a living off of caring for canines, so they tend to know their stuff.
CONS
Can be stressful and overwhelming
While some dogs don't mind the kennel environment, others absolutely hate it.
Dogs that don't adjust well to change or take time to adapt to new surroundings might not fare well at a dog kennel.
A traditional kennel environment can be especially challenging when boarding a reactive dog, depending on the design and layout of the kennel system.
Option #2: Private Dog Boarding Services
Private dog boarding is an arrangement where your drop your dog off at another individual's home.
These services are very similar to dog kennels, in that you are often placing your pup into the hands of a professional or experienced dog care expert. However, instead of a separate facility, these services are operated out of the business owner's home.
This allows your dog to be in a real home environment which, while still not your home, can be more comforting than a kennel institution.
Again, you'll always want to visit the home your dog will be staying in before committing.
PROS
Home setting that's less chaotic than a kennel
Your dog gets quality care in a home setting, easing some of the anxiety regularly associated with dog kennels
CONS
Can still be stressful, and likely will be around other dogs
Private boarding still involves a new setting for your pooch, and there are often (but not always) other dogs to contend with, so if your dog doesn't play nice with others, this might not be an ideal option.
Option #3: Housesitting & Petsitting Services
Petsitting services have pet pros come into your home to watch your dog. This means your dog gets to relax in a familiar setting, with a similar (if not the very same) routine your pup is accustomed to.
Cost can vary depending on the sitter's experience and the going rate for overnight pet sitting in your area.
PROS
The easiest, least-stressful option for your dog
Allows your dog to stay comfortable in his own home and a familiar environment. There are also many petsitting networks both locally and globally – in some cases you can even get petsitting for free, in exchange for providing lodging.
CONS
Someone you don't know stays in your home
Not everyone is comfortable with a stranger staying in their home.
If you do go this route, consider a video call or in-person meeting to get to know the sitter before committing.
Paid vs. Free Housesitting: How Free Petsitting Services Work
Housesitting services (aka petsitting – we're using the two interchangeably here) are often the favorite of owners with problematic pooches, as it gives your dog the stress-free experience of staying in his comfort zone at home.
Housesitting services vary quite a bit – there are a few different options.
Professional housesitting through a service means you'll be dealing with certified individuals who watch pets for a living. Many of these specialized services also handle any licensing and insurance issues that may arise with pet sitting. These sitters usually charge an average fee between $40 – $100 day (prices vary a lot depending on where you live and competition).
Volunteer pet sitting is a bit different – you get access to free petsitting in exchange for the lodging you provide.
In today's sharing economy, people hire out other individuals to do everything from give them a ride around town (via Uber) to pick of their groceries or stand in line for tickets to a new movie (via Task Rabbit).
The same goes for watching your beloved canine!
Many websites allow owners to hire out pet sitters in exchange for a place to crash! Most sites are set up around a similar design – owners in need of pet/house sitter post their listing, detailing the pets that need to be watched, the dates when they'll be away, and information about their home and location.
Pet sitters fill out a profile explaining their experience with animals, personal pet-preferences, and – in many cases – any necessary background checks or testimonials from past clients.
Pet owners get a pet lover to watch their four-legged friends for free, while pet sitters get free lodging – it's a win, win!
Opening your home to a stranger won't sit well for everyone, but for those who are game for giving it a try, you can save heaps of money when comparing free sitting-for-lodging exchanges against professional kennel services.
Who Pet Sits For Free? Folks That Like to Travel!
You may be wondering – what kind of people volunteer to be free house/pet sitters? Well, people like me, for one! My writing with K9 of Mine means I can work remotely from any location.
I love to travel, so I always like to take advantage of my ability to work from anywhere. For me, the opportunity to stay in a new city while cuddling with a furry love bug is a dream come true! Why pay for Air Bnb when I can pet or housesit instead?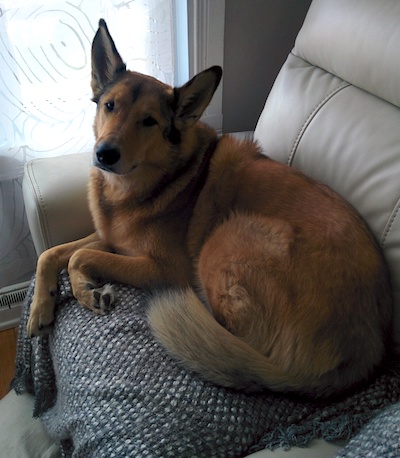 I had a great experience this year petsitting for a family in Montreal. While they spent the week in Iceland, I got to hang out with Bowser – an adorable German Shepherd/Husky mix I instantly fell in love with!
The arrangement allowed me to explore Montreal, and allowed Bowser to keep her regular routine and stay happy and stress-free while her owners were away.
Her owners explained to me that Bowser was much happier staying home – they tried putting her in a kennel for a previous trip, and she had returned to them nervous and off, even having accidents inside the house. Bowser was clearly much more comfortable being in her familiar environment, and we became fast friends.
Dog watching is an awesome gig for people who love dogs but can't have their own, for whatever reason.
Despite my positive experience pet sitting, when using these services, there are a few things you should do to vet potential house sitters.
Read our guide below on how to find a pet sitter and the general process you'll want to follow. Keep reading after for our top picks on the best pet sitting service websites!
5 Step Guide For Finding A Pet Sitter
Step 1: What to Look For In a Sitter
When vetting your pet sitter, here are a few things to look for:
Testimonials / Recommendations. Most petsitting sites allow members to leave reviews, which allows owners to see which members have the highest ratings. You don't necessarily need to avoid users without reviews (I had no testimonials initially for my first housesitting gig), but seeing someone with a high rating can certainly add some peace of mind.
Profile & Bio. You'll want to look for petsitters than have a full bio filled out, complete with profile pictures and a personal description. Reading through a user's profile will give you a better sense of their personality and why they're on the site. Plus, anyone who can't be bothered filling out their profile or adding a photo shouldn't be allowed to watch your fur baby!
Other Social Networks. I also suggest vetting your sitters a bit by looking them up on other social networks. For my first housesitting gig, I didn't have any official recommendations through the housesitting website – instead I recommended that owners view my LinkedIn profile, which gives a thorough look at my past work experience and qualifications. This helps owners validate identity and ensures that their petsitter is a upstanding citizen.
Step 2: Making Your Gig Look Desirable
Now you know how to find the best pet sitters, but how do you make sure they choose your housesitting opportunity over other gigs?
There are a number of ways you can make your petsitting job appealing to applicants.
Give Plenty of Pet Details. Petsitters want to know about the animals they are caring for. Don't skimp on detail when it comes to your pup – talk about their likes and dislikes, personality quirks, and why you love them. Don't forget to include a pic of your pet too (or several)!
Be Clear On Expectations. Good communication is key to any relationship, and that goes for petsitting too! If you know your dog needs to be walked 3 times a day, make that clear in your job listing.
Everything from pet medications, to plant watering and mail collecting should be at least touched on in your listing. You can save the extreme details for one-on-one messaging, but the more clarification you can provide up front about the duties expected from your petsitter, the better.
List Nearby Attractions. Pet sitters coming in from out-of-town won't know the area well, so it's your job to play the role of tourism agent (at least a little). If there's a favorite creperie or a Starbucks a block away, make sure to mention it! You want your location to be appealing to prospective pet sitters, so be sure to talk up your spot (without being misleading of course – you don't want sitter expecting a country getaway and encountering a downtown flat instead).
Post Photos Of Your Home. Sitters want to know where they will be staying. Remember, they are providing their services for free in exchange for housing, so the housing aspect is HUGE! Talk up your amenities and take lots of photos to showcase your home.
Give Transportation Options. Many pet sitters might not have a car readily available, so make sure to detail the nearest train, bus, or subway lines around your home.
If you need real world example, just check out Air Bnb! While Air Bnb has visitors pay locals for renting out their spare room or futon, in many ways its a very similar arrangement to pet sitting – just instead of money, you're getting pet sitting services. Take note of how highly-rated Air Bnb hosts talk about their home and what information they include.
Step 3: Messaging Your Potential Sitter
Most pet sitting systems have owners post their listing / sitting request, and then potential pet sitters apply for the job. Once you have a handful of applicants, browse through their profiles and see which ones stand out.
Once you've selected a few qualified candidates to take care of your fluffy pal while you are away, it's time to message them! We suggest listing your favorites from #1 pick to your third choice, just in case your very favorite candidates end up being unavailable.
Send a message to your favorite potential sitter. Ask them a few questions to get a better sense of their disposition and experience. Some questions might be:
Do you have any past experience with pet or house sitting?
Why do you want to visit [location]?
What makes you want to be a pet sitter?
If a sitter doesn't even bother to answer your questions, you know they're out! If you like their answers, they might be a good fit!
Step 4: Skype Your Sitter
I highly recommend you jump on a phone call or Skype session with your potential sitter. Video chatting will give you a much better, more authentic sense of the pet sitter's personality. Plus, it helps prove that they are who they say they are!
Step 5: Stay In Touch
In some cases, you may set up an arrangement with a pet sitter several weeks (or even months) before the actual date of your trip. Between your first contact and the set trip date, stay in contact with the sitter to make sure they are still committed to coming.
It's especially crucial to check in with your sitter the week before your trip. Hopefully if something has come up last minute, your sitter will make that clear, and if any hiccup is detected the week before, you may even have enough time to find another sitter.
We recommend always having some kind of back up plan in case your sitter bales out (maybe a paid sitting service or kennel for a worst case scenario).
As quick word of caution – never exchange any money prior to meeting in person (if performed outside of the housesitting service's website), and if someone requests this, be on the lookout for a scam. The majority of sitting arrangements go off without a hitch, but there are online scammers all over the web, so just remember to be smart and especially cautious if someone is asking you for a private money order or some other weird financial exchange.
Step 6: Leaving Your Pet
Finally, it's time for your trip! Make sure that your dog has everything he needs to be comfortable while you are away – for example, if he has a favorite toy or t-shirt with your smell, you can make sure those items are left out.
You should always arrange to have at least some amount of overlap time with your sitter – even if it's just one overnight or the afternoon before your departure.
Make sure to walk your petsitter through your dog's regular routine, including:
Location of collars and leashes
Where food is stored, amount per meal, number of meals
Any medications or treatments that need to be applied
Favorite walking routes (if time allows)
Definitely take some time before the sitter arrives to sit down and think about anything and everything someone may want or need to know about your dog. Write up a list or helpful notes that will be useful for your pet sitter to have on hand.
Also provide a printed or written list of emergency information, such as:
Your veterinarian's phone number and address
Local emergency pet clinic
General emergency numbers
Contact information of friend or relative
5 Popular Housesitting & Pet Sitting Sites
Interested in giving it a try? Here are a few sites that offer pet sitting and house sitting services! We've included a mix of the best free sitting sites as well as top-notch paid service sitting sites across the web.
1. Trusted House Sitters
Trusted House Sitters is one of the most popular house sitting websites, with thousands of active listings on any given day. Trusted House Sitters also includes ID verification and criminal background checks on sitters as part of the registration process, adding another layer of security.
The site itself boasts an impressive site design and a clean UI. It's easy to navigate and is very modern looking (especially when comparing against other housesitting sites).
While some other housesitting websites leave it up to the sitters and house owners to decide between them whether the gig will involve a monetary exchange or not, Trusted House Sitters requires all sitting arrangements to be free, which definitely simplifies the process.
Trusted House Sitters has been featured in the Boston Globe, USA Today, Huffington Post, and MSN Travel, among other outlets. hey also won People's Choice Award and Social / Community Website of the Year Award from the Good Web Guide Awards in 2013.
Regions Covered: All over
Membership Price: $10/month (for owners as well as sitters)*
Cost of Services: All housesitting arrangements are free!
*Note: You can set up a profile for free, and check out various sitters, but setting up a booking requires users to register as paid members.
2. Mind My House
Mind My House is a fairly basic housesitting website – it lacks the clean and crisp UX of Trusted House Sitters, but it's still a great site packed with qualified sitters and hundreds of current housesitting gigs. In fact, Mind My House was the first pet sitting site I signed up for.
Regions: All over – mostly North America and Europe
Membership Price: Free for owners, $20/year for sitters
Cost of Services: Vast majority are free arrangements, but Mind My House lets owners and sitters decide if money should be exchanged.
3. Rover
Rover is an online app and website that provides access to a large network of pet care givers in your area.
With Rover, you can select a number of different services, from occasional dog walking to long-term pet sitting, and search for local users that meet your criteria.
With Rover, you do pay your sitters, based on whatever rate is set by the care provider. All payment is arranged through Rover, keeping the exchange of money clean and hassle-free.
Pet owners, sitters, and walkers have insurance coverage under Rover, although it's worth noting that while this might cover unexpected vet emergencies, it doesn't involve any kind of coverage in the case of damage to your home.
The main benefit of Rover is that you really can customize for the care you need – for example, if you have a neighbor who can feed your dog, but just need someone to drop by and walk or play with your dog during the day, you can arrange that setup on Rover.
One big difference is that Rover deals with local pet care givers – there is no travel or tourism aspect. Owners may like the ideal of having someone local care for their pet, although from my own pet sitting perspective, I prefer to use house sitting as an opportunity to travel and see new cities!
Regions: Your local area (networks across more than 10,000 cities)
Membership Price: Free. Rover takes a 20% of money that is exchanged (usually this cost falls on the service provider).
Cost of Services: Services range in pricing. Rover is a community marketplace, with prices varying depending on location, pet size, and services required.
4. DogVacay
DogVacay is another dog care network site, nearly identical in design to Rover. Search for canine boarding providers, day care, housesitting, or dog walking services in your area, and get access to a large network of "dog people".
DogVacay personally vets the folks in their network, which is pretty cool and adds confidence. They also offer 24/7 customer support and pet insurance (always check the details though because, like rental car insurance, these policies rarely cover everything you need to worry about).
DogVacay has some cute extra features – such as their "daily photo updates" policy, which gives owners access to a new photo of their pup each day, so they can see how their fur baby is faring without them!
They even offer a nice concierge service, which can help you book a new sitter quickly if your original arrangement falls through or if you have a last minute need.
All payments are handled through the online app, making the whole process quite easy and convienent.
Regions: Your local area
Membership Price: Free. DogVacay takes a 20% of money that is exchanged (taken out of care giver charge).
Cost of Services: Community marketplace, with prices varying depending on location, service, and what the host sets as the going rate.
5. Care
Care is a service-based site with a design is similar to Rover and DogVacay – it's a website network of local care givers, with pet sitting as one of many options (including babysitting, elderly care, and more).
Regions: Your local area
Membership Price: Starts at $40/month, can be as low as $13/month with 1 year commitment.
Cost of Services: Community marketplace, with prices varying depending on the assignment and what the care giver requests.
Care.com has a huge network of caregivers, and it's pretty amazing that you can find everything from elderly care services to pet sitting in one website!
Look at the profiles of various sitters, check out their ratings, and choose the best fit. In addition to hourly rate and sitter age, Care also highlights the sitters' years of experience, which can be handy for owners who know they need a more experienced pet sitter.
Care also gives some context by noting the average per hour rate of sitters in your area, which can be helpful to gauge cost.
Care's huge network is likely their greatest advantage. For sitters, it may be worth noting that joining up with Care can bring on some additional costs outside of the monthly fee through premium features. While incurring additional fees, some of these extras may be worth the financial investment (for example, paying for a background check through Care will most certainly improve your chances of being selected and set you apart from the pack).
How Does Insurance Work With Housesitting?
Insurance is handled differently depending on the website service.
For house sitting websites where no money is being exchanged, the site usually leaves it up to you on how to handle and legal or insurance issues.
Both Trusted House Sitters and Mind My House have sitter agreement form templates that you can use to draft something up, if you feel it is necessary (although most arrangements do not seem to involve these agreements).
It is worth looking into your home owners/renter insurance policy and your pet insurance policy (if you have one), any many incidentals may already be covered by your existing insurance.
Other websites like Rover and DogVacay, which involve a monetary exchange, offer basic insurance coverage as part of the package.
Make sure to read the fine print on any sites' insurance offerings, as most involve a not-insignificant deductible, and while they cover some aspects of your pet care agreement, they certainly won't cover everything you might expect or hope for.
If you rent, double-check your lease and make sure there are no restrictions on house sitters or temporary occupants. In the vast majority of situations, there should be no reason why you can't have a house sitter stay there, but always better safe than sorry! If you feel it's necessary, run the situation by your landlord (they should be happy since it's far better to have someone occupying a home than have it be empty for an extended period of time).
What If Something Goes Wrong?
Your trip should go off without a hitch, and hopefully all things fare fine at home as well!
However, on the off chance something does go wrong, you should have a contingency plan.
For example, what will happen in your flight gets delayed? Your pet sitter may be able to stay a bit longer, but if not, make sure you have a kennel number or local family friend on hand who may need to step in to provide overlap.
There's also the slim possibility that something could happen to your sitter or pup.
Full disclosure – I did have an incident while I was watching Bowser in Montreal! Bowser got into some chocolate in my backpack, and I ended up taking her to the emergency vet clinic. Bowser was a very big dog (85lbs) and I knew the amount of chocolate she ate was too small to really do anything, but I couldn't stomach taking any kind of risk with someone else's dog.
It was a very stressful afternoon for both Bowser and me. Thankfully, her owners were very understanding and even reimbursed me for the $160 vet bill. While the emergency clinic told me on the phone to bring her in, they agreed when I got there that she was fine and didn't need to have her stomach pumped – but they still hit me with the consultation fee! That's a whole story for another day though.
Bowser's owners didn't need to pay that bill – it's one of those gray areas where there aren't any set rules on how to handle the situation. It's certainly worth considering how you would handle a situation like that, where it to happen on your watch.
Have you ever hired a house sitter through one of these sites (or a similar service) to watch your pup? How did it go, and would you do it again? Share your thoughts in the comments!